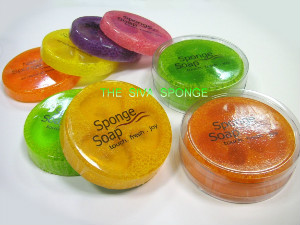 #8081

SPONGE SOAP
Features:

Soap into a sponge is more convenient for bath. Users won't have any soap left.
After running out of the soap, the sponge can be used to wash the face or hands.
When using new regular soap, it's easier to generate the bubbles; however, when the soap is getting smaller, it won't be so easy to generate bubbles. Our design combining soap into a sponge can generate the bubbles via the sponge holes easily.
We can have different design and color sponges in the soap; the sponge color will remain vivid as its original design after use.