Company Profile

About SIVA sponge
Siva Enterprise Co.,Ltd established in 1988,our expertise products cover all kinds of bathing material accessories not only to develop new Technology but also to proceed withholding high standard of quality goods.TQM(Total Quality Management) isour primary focus.
As we are the long anding/leading manufacturer locating in Taiwan,we insist in Unique developing technology & stabilized produres in joined high grade of local satellite supplier conspire to unite efforts forming an efficient teamwork.Our goal is to accomplish customers desires to fulfill their needs by offering very competitive reasonable good price to achieve customer utmost satisfaction. Simultaneously, enormous representative products were created on the way to mutually beneficial its completion.
We are continually precise in every step of new ideas creation, innovation,production,& diversification.
We have new products every year from time to time.
As we always follow to company mission, by innovated design, withhold stabilized product quality, efficient production frontier, and reasonable compctitive good price.
Apparently exports weighting 95% versus 5% of imports;
Product Classification Proportion
1. Bathung product 77%;
2. Kitchenware product 5%;
3. Packing product 15%;
4. Others 3%.

Utilized materials:PU,cellulose sponges,EVA and PVA materials.
Proportion:
PU foam sponge 72%
Cellulose 5%
EVA foam 1%
PVA foam 10%
Other materials 12%
Professional Boundary

We focus on two types of sponge development & production;
(A) 3D sponge shaping: we could do any arch shapes & reach 95% regairment.
(B) New materiat development: According to the necessary of the market. We had obtained 3 patent from U.S.A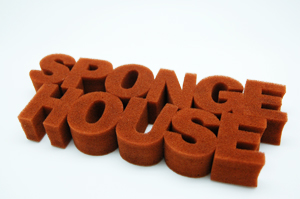 In 2013, a new department was established especially for new sponge product division. This division had separated senior production workers apart and focusing on making complicated fine industrial sponge products. Our purpose is to create one group of people focusing specifically on market demand for fine, delicate, and highest quality sponge products. It is our brand, Sponge House, which set apart from SIVA's normal operation.
Sponge House dedicates itself on creativity designing with complicated product manufacturing skills. We hope to enlarge our sponge market share, hence to provide service for many different customers!
***
New designs R&D: New designs' coming not only design but also fnaction. From 1988 till to day, we have 850 designs or so.
From customers or designed by our seles,average 5.4 days one new design could be created.
specialized system of worker in Siva as follow:
1.All workers have training course and interchange the new knowledge with R&D Dep

2.We edit the program of computer by ourselves to fit systen. we call " Manager of Siva factory " that help our workers to reach best efficiency .

The factory derector can realize condition and quality of production line immediately.

***
SIVA make sure all new products were send out to every corner of the world so all business export.throngh some of trading Cornet direct selling.


***
SIVA concentrate,and some of exporting channet are responsible for introducing new products speaification & market communication like a bridge between Siva & customers.





assurance
After burying ,SIVA's product itself decomposes gradually( biodegradable). No harmful component and heavy metal included.

patented creation
Only the original patented creations can give you the best looks and most reliable quality.
The PVA flower is one of our original creations and has already been patented in many countries. However, many unauthorized copies have recently appeared on the market, as the background of this ad shows. In order to protect our sales channels and maintain the integrity of our designs, we are taking legal action against those responsible, thereby maintaining trading standards and the due quality of PVA flower sponges.
Please contact us to obtain more information.

Innovation design-stable quality-producingcapacity-worth price are principle of Siva enterprise all staff.